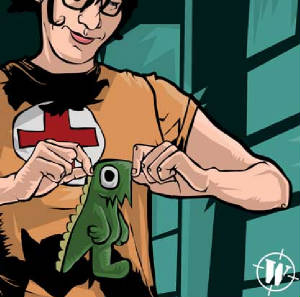 "For me the idea of Worship skateboards slogan "worship not the idol,
but the ideal" seemed to spring up billions of images of corporate
ownership over the human soul. My detest for corporate enterprise,
having had to work for so many within the choke hold of the nine to
five, is most of what drew me to Worship in the first place. I then
thought about nostalgia, and the way that the material things we love
as children, such as toys, are not only marketed to us when we are
young, but then later bastardized and re-marketed to us later, with a
much stronger hold on our emotions. (We've all thought: "Wow! They
have a t-shirt of [insert nostalgic toy here]! I used to LOVE that as
a child!") My series is about Toys, and the strange control they have
throughout our lives."
-Joshua Kemble

Bio:
Joshua Kemble is a freelance illustrator and a 2006 Xeric grant
recipient for his comic book NUMB (alternative comics 2007). He is at
work on his graphic novel, which will be published by NBM publishing,
and is completing a masters degree in illustration at California State
University, Long Beach. An unabashed comic book
geek, he was born in Tarzana, California, grew up in the Antelope
Valley, and now resides in downtown Long Beach with his fiancée, Mai,
and his pug, Holden.